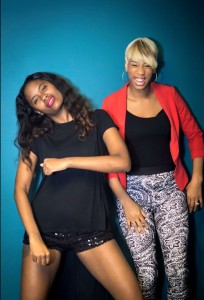 Have you ever heard of George Clinton of Parliament Funkadelic? Of course you have! With hits like "Flashlight" and music that has been sampled by most well known rappers, if you don't know who George Clinton is, you must have been hiding under a rock all this time. George Clinton and the PFunk family have been around for decades. Most recently, their music has been featured throughout the Compton movie and was even featured on Kendrick Lamar's last album and now it seems that the apple doesn't fall far from the tree, Kandy Apple that is, as George Clintons granddaughters Tonysha and Patavia, who make up the sassy group called Kandy Apple Redd aim to keep the legacy alive by releasing their own album in 2016.
Currently on a world tour with their grandfather George Clinton, Kandy Apple Redd have been recording an album of their own, and we're excited to announce that they have joined the Exclusive Public team in order to make sure that they do it properly.
We've been working with the girls and their label, Home Grown Entertainment for the last few months, building their websites, picking songs for their upcoming album, building their social media presence, booking shows and interviews and more.
Currently the girls are preparing to release their first single entitled "Bring It Home" which features George Clinton himself.
Stay tuned to see what the girls have in store! For now, be sure to follow them on Twitter @KandyAppleRedd and check out their website www.KandyAppleRedd.com for more updates.